Security points are designed to protect the territory of and control access to facilities of different purpose, to production sites, construction sites, warehouses, malls, military bases, parking lots, etc. They are a stationary workplace for security and access control staff.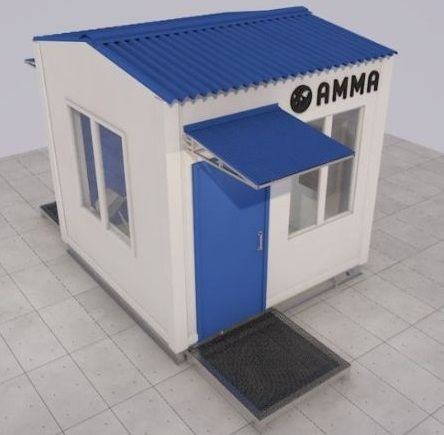 INTENDED USE AND DESCRIPTION
Security checkpoints have a packaged modular modification and are delivered to the facility/construction site in the ready-to-operate condition. They are equipped with an electrical supply, ventilation, heating and sewage system (if necessary).
In order to commission a security checkpoint it is enough to erect it on the platform or a foundation and connect to the utilities.
Security checkpoints are completed with one or two turnstiles. Turnstile are selected for security checkpoint, because they are reliable, compact and elegant.
Turnstiles can be controlled both from the access control system and autonomously using a remote control panel (included in the standard delivery set); alternatively it can be controlled with a radio set.
The structure of the modular container is frame and panel. Modular containers are comprised with a base, a framework of a steel shape. the container is covered on the outside with sandwich panels with mineral wool heat insulation. On the inside the walls are covered with gray finely dispersed emulsion panels. The windows and doors are plastic with triple glazing. The floor has heat insulation and is covered with gray linoleum; the ceiling is covered with white plastic PVC panels.

The bearing structures of the modular container have lifting elements for handling and installation. Transportation is allowed using rail, motor or water vehicles.

Key advantages of modular packaged security checkpoints:

ready-to-operate condition means the item can be put into operation straightaway;
unlimited number of installation/dismantlement cycles;
environmentally friendly materials;
wide range of climatic modifications;
extensive service life - over 20 years;
low price.
Scope of Delivery:

security checkpoint building with equipment and internal engineering networks;
building passport;
passport documentation for components;
spare parts set;
technical documentation in Russian (3 copies) and their PDF soft copies on a CD.
SECURITY CHECKPOINT
Assortment of Checkpoints