ББТ-АММА PROCESS MODULAR CONTAINERS
АММА-БРВ Water Distribution Unit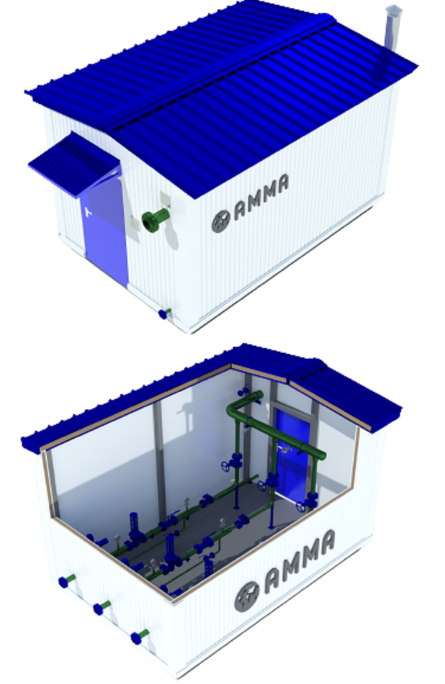 НАЗНАЧЕНИЕ И ОПИСАНИЕ
The Water Distribution Unit (БРВ) is designed to distribute the working agent pumped into the injection wells of the reservoir pressure maintenance system and meter its flow rate and pressure.

The working agent is water (fresh water, reservoir water, bottom water). It can be highly mineralized and contain residual oil, which imposes special requirements on the material of pipelines and valves.
The Water Distribution Unit is available as a single Modular Container or several Modular Containers combined into a single facility. A standard configuration consists of a manifold for water supply, pressure and drainage piping, shut-off and control valves and instrumentation. Depending on customer requirements and operating conditions, pipelines can be electrically heated and thermally insulated.The unit room is equipped with lighting and ventilation systems. There is a nozzle for draining spilled product from the unit's floor.
Equipment is designed and manufactured according to TR 3683-001-64137682-2010 in accordance with Customer's requirements. It ensures its manufacturability and ease of use.
All types of equipment have the necessary permits.
The standard Water Distribution Unit is a unit that contains a header for receiving water from the high-pressure pumps and outlet lines for distributing fluid to the injection wells of the reservoir pressure maintenance system. Pipelines are equipped with shut-off valves, control and regulation devices (on request). Advanced configuration can include customer-specific systems, such as electric piping heating and insulation, remote monitoring and control systems for process parameters, additional safety devices.
The pipe and fitting material are selected as per Customer requirements and the medium.

Металлоконструкции и трубопроводы проектируются и изготавливаются с соблюдением основных нормативных требований:

ГОСТ 32569-2013 «Трубопроводы технологические стальные. Требования к устройству и эксплуатации на взрывопожарных и химически опасных производствах».
СП 53-101-98 «Изготовление и контроль качества стальных строительных конструкций».
Федеральные нормы и правила в области промышленной безопасности «Правила безопасности в нефтяной и газовой промышленности».
Правила технической эксплуатации и безопасности электроустановок промышленных предприятий.
The Water Distribution Unit's structure is a load-bearing metal frame made of profiled pipes with walls and a pitched roof made of sandwich panels. The floors are made of corrugated metal sheet with a wear-resistant paint coating.
Entrance units are equipped with protective canopies and steps (on request).
The bearing structures and pipelines are exposed to the anticorrosion treatment, they can be painted in the customer's brand colours. The pipelines are hydraulically tested for strength and leakage during the manufacturing process.
Electric heaters or water heating radiators are used to heat the skid. The heaters are located in places that ensure unhindered and safe maintenance of the equipment.
Natural supply and exhaust ventilation of continuous operation is provided in the Water Distribution Unit. Exhaust is via insulated ducting with deflectors. The air supply is made through a supply valve in the unit wall. Manually operated valves are provided to regulate air flows in the exhaust and supply parts.

Электроснабжение и освещение
Питание электроэнергией осуществляется от внешней питающей сети. Питание электропотребителей осуществляется от шкафа ВРУ, устанавливаемого в блоке (либо у Заказчика, по согласованию). Электрообогрев трубопроводов (при необходимости и по согласованию) выполняется греющей лентой с управлением от термостатов TS1 по температуре внутри блока.
Электропроводка распределительной и групповой сети выполнена по системе TN-S.
Безопасность эксплуатации обеспечивается надежной изоляцией электрических элементов, заземлением приборов КИПиА, трубопроводов, арматуры, металлоконструкций. В блоке прокладывается внутренний контур заземления из стальной полосы 4х25 мм.  

БЛОК ВОДОРАСПРЕДЕЛИТЕЛЬНЫЙ АММА-БРВ
Галерея
АММА-БРВ WATER DISTRIBUTION UNIT
Designation
АММА-БРВ WATER DISTRIBUTION UNIT
Standard modifications
БЛОК ВОДОРАСПРЕДЕЛИТЕЛЬНЫЙ АММА-БРВ
Габаритные размеры
АММА-БРВ WATER DISTRIBUTION UNIT
Certificates