БЛОКИ ТЕХНОЛОГИЧЕСКИЕ ББТ-АММА
Блок-бокс коллекторный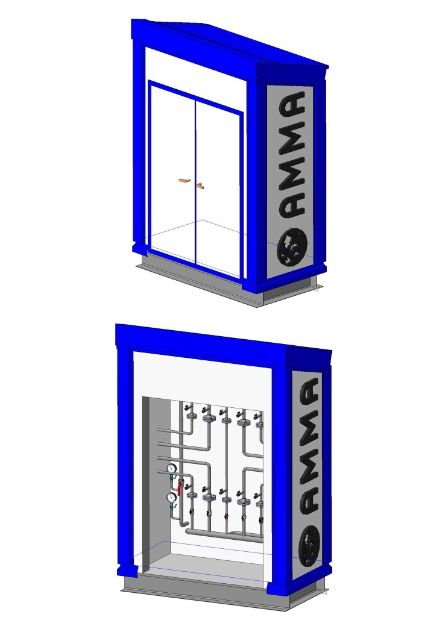 DESCRIPTION
АММА-ББТ Manifold Box is a factory-ready packaged modular building. It has a set of manifolds, shut-off and control valves and instrumentation. АММА-ББТ Manifold Box overall dimensions are selected depending on the number, overall dimensions of manifolds and other process equipment. The dimensions and weight of the skids are selected based on whether it is possible to transport them by rail and road. The packaged modules are made of maximum factory readiness. Metal structure is manufactured in accordance with the requirements of GOST 23118-99 Steel Construction Structure and СП 53-101-98 Fabrication and Quality Control of Steel Construction Structures. The load-bearing structures and piping are exposed to a corrosion protection treatment.

Three-layer metal sandwich panels with heat insulation are used as wall and roof enclosures of modular containers. The level of pump station automation makes it possible to operate without permanent presence of the operating personnel directly at the devices and units. Automatic emergency protection and blocking of technological equipment in case of emergency situations, emergency and technological alarms are provided. It is transmitted by the control system to the operator's room.
The АММА-ББТ Manifold Box's delivery set includes the following:

АММА-ББТ manifold;
set of spare parts and materials for the warranty period;
technical documentation (data sheet, operation manual).
The АММА-ББТ Manifold Box can be transported by road, rail or sea (river) in accordance with the current rules of transportation for the particular type of transport.

As per climatic factors, the skids shall be transported according to Group 8 GOST 15150-69. As per mechanical factors it shall comply with GOST 23170-78.Before transportation, it is necessary to dismantle and secure the removable elements of the АММА-ББТ Manifold Box.

Only serviceable packages with intact lifting lugs are allowed for transportation.
The АММА-ББТ Manifold Box shall be loaded onto the vehicle by means of cranes of suitable lifting capacity, equipped with lifting means and pulling devices. The АММА-ББТ Manifold Box may only be lifted by the elements provided for this purpose.


It is prohibited to lift the АММА-ББТ Manifold Box by other means. The АММА-ББТ Manifold Box shall be secured to vehicles in accordance with the loading and securing specifications for each type of transport. The dimensions of the АММА-ББТ Manifold Box comply with the requirements of the loading dimensions of the Technical Conditions for Loading and Securing Cargo of the Russian Ministry of Railway Communication.

The AMMA guarantees that the АММА-ББТ Manifold Box complies with the technical documentation, provided the customer complies with the conditions of transport, storage, mounting and operation. The warranty period is 12 (twelve) months from the date of mounting or 18 months from the date of delivery, whichever comes first. The service life of АММА-ББТ Manifold Box is 8 years.
The warranty periods for the components used in the АММА-ББТ Manifold Box are specified by the Manufacturer, who is responsible for their quality. A warranty period may be agreed upon with the Customer.

Траверса для подъема продукции
При заказе оборудования и зданий АММА внимательно проанализируйте требования к строповке. В случае выбора оборудования с нижней строповкой убедитесь в том, что в пункте разгрузке и перегрузке имеются траверсы для подъема нашей продукции. Вместе с нашей продукцией Вы всегда можете заказать траверсу TR-АММА для безопасной разгрузки, погрузки.

Во время пути оборудование АММА может перегружаться с автомобильного на железнодорожный транспорт, с железнодорожного на морской, с морского снова на автомобильный и т.д.

Для безопасной, удобной доставки оборудования АММА рекомендуем вместе с нашим оборудованием заказывать траверсы TR-AMMA для минимизации потенциальных рисков повреждения оборудования во время транспортировки.

Скачать Лист технических данных на траверсу для подъема продукции

БЛОК-БОКС КОЛЛЕКТОРНЫЙ
Галерея
MANIFOLD BOXES
Certificates