BUILDINGS
Комплекс мобильный штабной
Комплекс штабной мобильный предназначен для обеспечения комфортной работы персонала.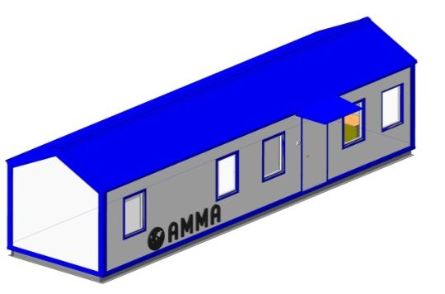 DESCRIPTION
The delivery set includes:

modular container with installed equipment and base (foundation), pipelines, engineering systems;
frame for installing modular containers;
set of assembly systems (heating, ventilation, lighting, construction structures, security and fire alarms);
set of metering devices required for operation of the installed equipment;
furniture set (approved during DDD);
first aid kit;
spare parts set;
primary fire extinguishing equipment.
The following works are carried out:
complex services in designing all the sections, manufacturing, primary acceptance, delivery to the site, assembly and installation of the equipment, preparing and issuing a set of as-built documents;
development of the test methods and procedures;
trademarks of the equipment are preliminary and can be replaces with equivalents;
it is possible to deliver communication and IT equipment.
The delivery set includes the following documents:

technical certificate for packaged product issued by the Federal Agency for Construction, Housing and Utilities of the Russian Federation;
set of design documents for the office;
test reports on main life support packages (heating, water supply, electric wiring and utilities);
fire safety certificates for the heat insulation in the fencing structures, cover materials, fire alarm sensors and substation equipment;
passports for modular packages building in accordance with GOST 22853-86;
manufacturer's manual for installation/dismantlement, operation, technical maintenance and repair of the building and included systems;
project, as-built documents for the power supply, heating, water supply systems of the building, passports for the used equipment;
recommendations for installation of the skid at the site;
passports and quality certificates for the equipment and materials applied during production.
Предусмотрено выполнение следующих работ:

комплекс услуг по проектированию всех разделов, изготовлению, первичной приемке, доставке на объект, сборке и монтажу оборудования, подготовке и выпуску комплекта исполнительной документации;
разработка программы и методики испытаний.
Марки оборудования предварительные, могут быть заменены на аналоги.
Имеется возможность поставки оборудования сетей связи и ИТ обеспечения.
ГАРАНТИЙНЫЕ ОБЯЗАТЕЛЬСТВА
Гарантийный срок устанавливается не менее 24 месяцев с момента ввода в эксплуатацию.
Гарантийный срок указывается в паспорте.
Срок службы - не менее 15 лет.